NATO EOD Demonstrations & Trials 2018
Official Invitation Letter for Companies and Visitors
Additional Information
Deadlines for registrations:
30 June 2018 for exhibitors
Dear prospective exhibitors,
We apologize but as of 2 May 2018 all stands available have been already booked. After this date, your registration will be put on a waiting list. The close of business for exhibitors registration is on 30 June 2018.
31 August 2018 for visitors
We all recognize that we are in the era dealing with a range of prominent threats such as cyber or terrorism. Permanent constant technical development of engineering technology and related procedures are forcing action to seek constantly better solutions related to detection, neutralization and removal of all types of hazards.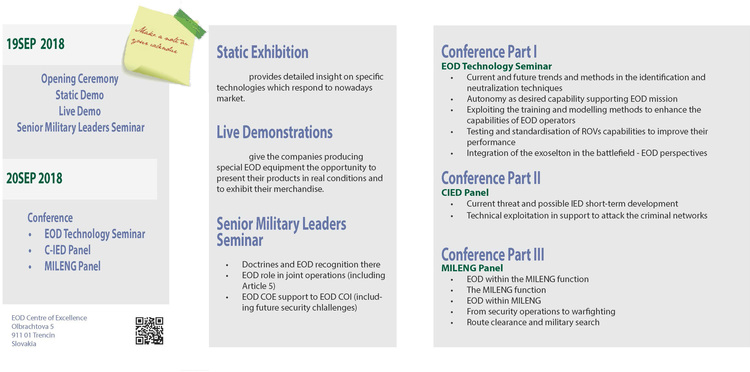 The main idea of the NATO EOD Demonstrations and Trials 2018 is "Multidisciplinary Approach to EOD", a challenge for EOD/IEDD experts, scientists, producers, industry and SMEs involved in the fight against terrorism.
The event is held under the sponsorship of the NATO ESC (Emerging Security Challenging) Division and is organised by the NATO EOD Centre of Excellence with the close cooperation with the NATO C-IED Centre of Excellence, Spain and NATO MILENG Centre of Excellence, Germany.
Features
Static Exhibition
Provides detailed insight on specific technologies which respond to nowadays market.

Live Demonstrations
As an essential part of the event, live demonstrations gave companies producing special EOD equipment the opportunity to present their products and get a picture of its abilities and liabilities.

Conference
With its topics the conference provides not only platforms for networking but also establishes a solid base for sharing knowledge and information.

Senior Military Leaders Seminar
The seminar organized as a part of the event for the first time. Even if it is designed for national, NATO and Partners senior military leaders/commanders with focus on key aspects of the EOD role within Joint Military Operations, it is OPEN FOR ALL registered exhibitors and visitors without any limitations.